It's been quite a bit of time since my last post, I thought I might start at the beginning,
I live in a lovely old town in Long Island, New York by the name of Sayville.
Photograph dated 1899, from the collection of Sayville Library.
The towns of Sayville and West Sayville have early Dutch roots and was famous for it's oyster farming. It was also a destination for New York City residents who vacationed here during the summer months.
Men at work at the back of the Vander Bourgh oyster company.
Photograph, c.1920s, from the collection of Sayville Library.
Sayville's location on the Great South Bay provides a quick boat ride to Fire Island. This made it an ideal location to cool off during those sizzling hot days at the turn of the last century and well into the 1900's.
Guests at the Cedarshore's private beach.
Undated photograph from the collection of Webb N. Morrison.
Many hotels and inns were built for summer tourism.
Postcard postmarked 1953, from the collection of Sayville Library.
My home is a
1930's Dutch Colonial
.
Much to my dismay, the exact date it was built is not on the house deed. My plan to visit the town offices to research the records has been on my "to do" list for approximately 10 years now.
Eventually I'll get there!
As a volunteer at the Sayville Historical Society I learned about a fascinating website for history buffs like me! It's the archive of the local town paper,
Suffolk County News
.
I went ahead and typed in my address and I was astonished at the wealth of information available!
Here is what I learned....
My house circa 1961
Backyard

1961
In 1936 through 1939 my "cottage" was owned by Mr. Albert R. Martin and was used as a vacation rental. During that time it was rented by Miss Kathryn Burke of Brooklyn, New York. During her summer vacations Miss Burke was socially active. She took part in numerous card playing events, social gatherings, and fundraisers. In subsequent years, Miss Burke went on to rent 2 additional summer "cottages" in the neighborhood. In addition her sister Miss Anita Burke was also a summer resident. It appears from my research that neither were married. Kathryn Burke died in 1949 and her sister Anita died a year later in 1950. I'd love to learn more about the first known inhabitant of my home.
I'm curious if Kathryn stayed in this home alone or if she had many visitors staying with her. It seems odd to me that she would need a 4 bedroom house all to herself. But then again, with the miniscule size of the closets I can imagine she needed each one for herself.
I know I do!
After Miss Burke's stay the house no longer shows up on the roster as a summer rental. Perhaps it was a permanent home after those years.

Researching the owner, Mr. Albert R. Martin, did not turn up any concrete information. It is however possible that I found his son, another Albert R. Martin who was the salutatorian of the
Sayville High School class of 1937
.
If this is his son, I can document his life quite extensively through the newspaper. That being said, I was unable to draw a direct lineage between the two Mr. Martins at this time.
By the 1950's the home was owned by Mr. and Mrs. Daniel Leary. In 1958 both were involved in a car accident that left them in serious condition. While driving on Southern State Parkway in Wantagh, New York, they were hit head on by a car that jumped the divider. Fortunately they both survived.
Then in 1959 there was a mysterious theft on the grounds!
Suffolk

County News Archive
Mr. Leary went on to live in this home until approximately 1961 when Mr. and Mrs. Kelly purchased the home. Mrs. Kelly owned the home prior to me. She passed away in 2003. Her daughter shared the wonderful pictures posted on this page with me.
I'm so grateful!
Mrs. Kelly on front lawn with dog

circa

1970's.
If you live in an old house and have ever wondered about the inhabitants before you, I suggest searching the archives of your local paper.
You may be as astonished at

the

morsels of information you might discove

r!
What is the history of your home?
The Reason I Bought My House
When I first saw my house I fell in love with the sun-room.
GREAT VISION
to see past the wood paneling, shag rug and drop ceiling.
All that registered in my mind was the enormous 3 pane windows, french doors and thick molding.
It's the room I feel most connected to and that's why I chose to share it with you all first.
Everything is a work in progress but I humbly submit these photos of the place in my home I feel most at
PEACE.
The Sun Room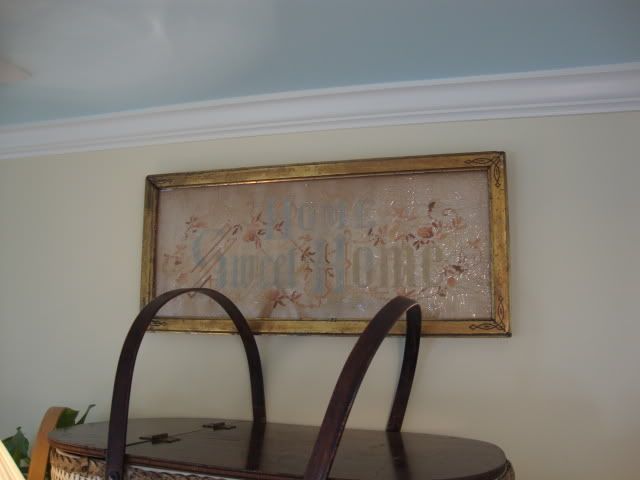 One of my favorite auction purchases. It's an antique
HOME SWEET HOME
embroidered "sampler" with a distressed gold vintage frame.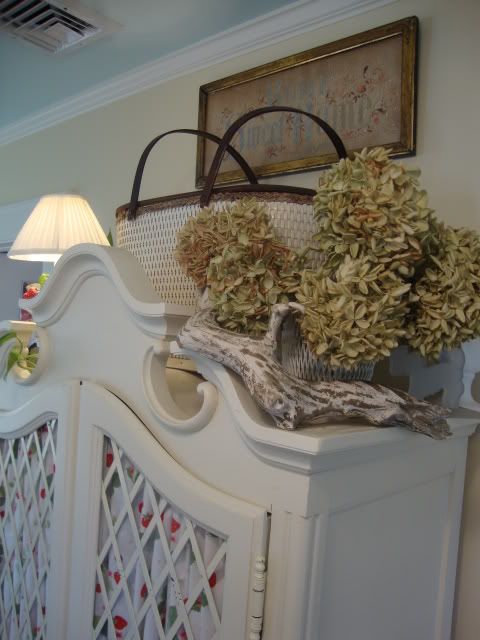 A recent find was the vintage picnic basket.
$4.00 at Selden Thrift!!!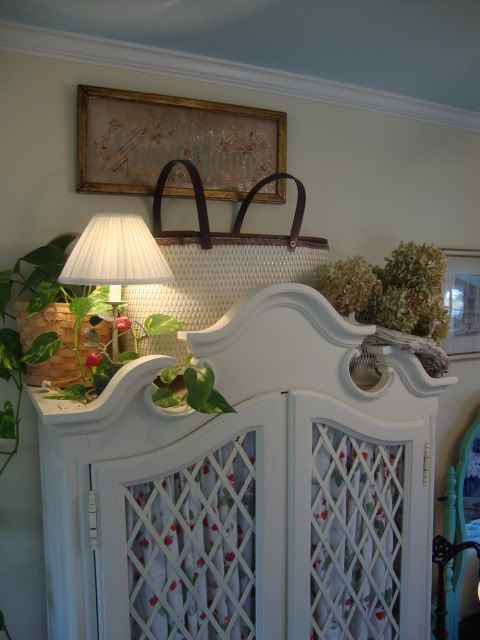 I found my vintage strawberry tole lamp on one of my thrifty adventures.
I'm pleased with the way it compliments the strawberry curtains inside the armoire.
I found those at a yard sale.
I just love Vintage Strawberries!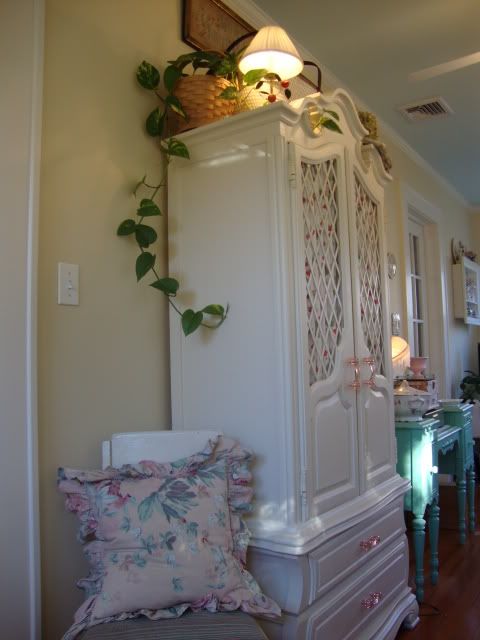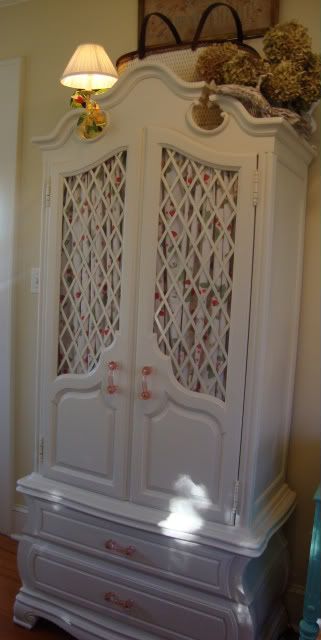 This armoire was 10 years in the making!
That's how long it has been since I bought it at the
Salvation Army.
I was pregnant at the time and just knew I was having a
girl
.
I had envisioned something similar to the picture above.
As it turned out, I had
So for years this was a dark yellow/gold color with rustic gold handles and lattice work.
Needless to say, having twin boys didn't leave me much time for refurbishing furniture.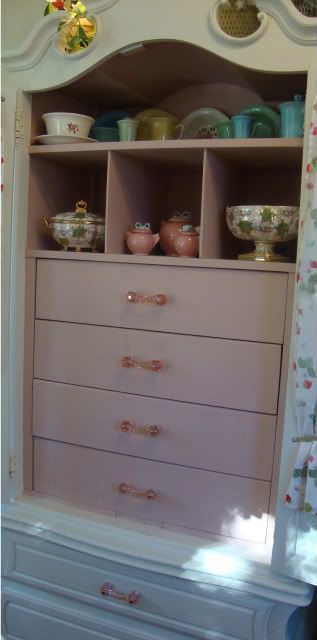 I'm tickled
PINK
at the final result.
Some day I hope to replace this black table with a larger marble top table.
My books need more room to breathe!
I'm hoping for an Eastlake Table with a Carrera Marble top.
I've been trolling Craigslit but haven't hit upon anything just yet.
Do you have one for sale?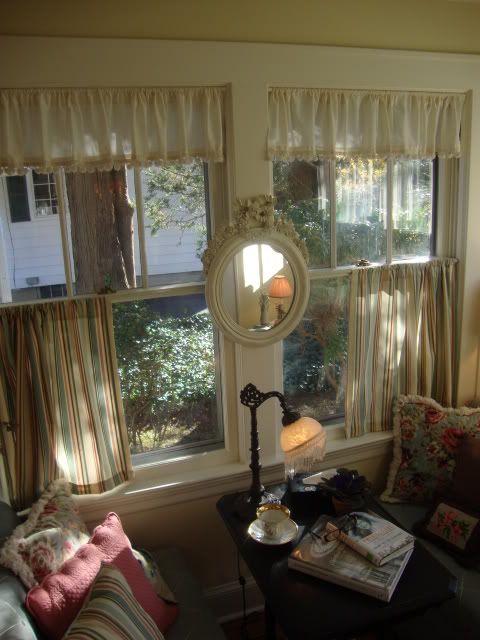 This is my little reading nook. I love to cozy up with some tea and spread my books out and look them over. The banquette came from Ballard Designs as I couldn't find this one "thrifting".
My pillows are from here, there and everywhere, vintage, new and handmade.....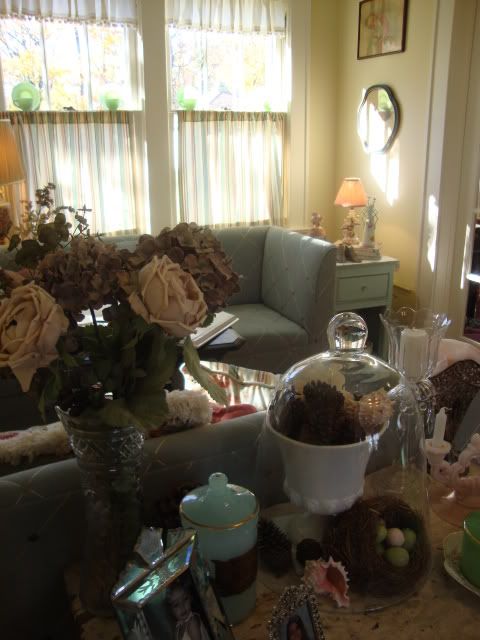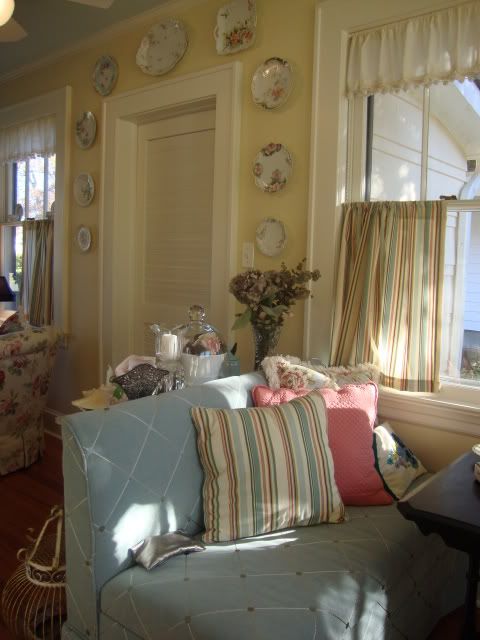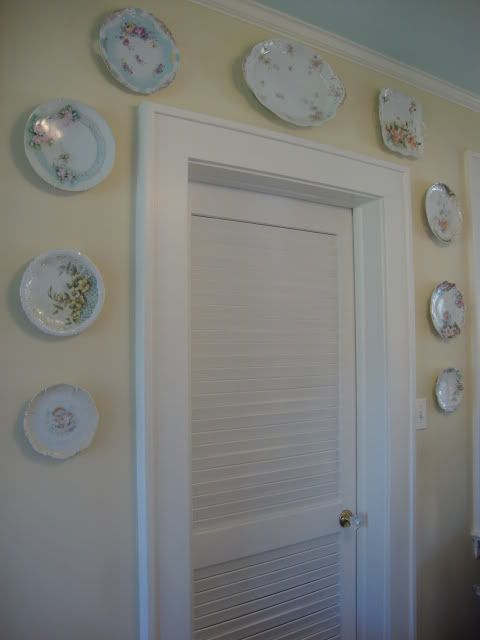 My collection of plates.
They are mainly Limoge and Bavarian porcelain pieces.
I love them ALL but the greatest SCORE was the Limoge platter at top.
That one was an awesome
DUMPSTER DIVA
moment.
I found it in some one's GARBAGE in pristine condition!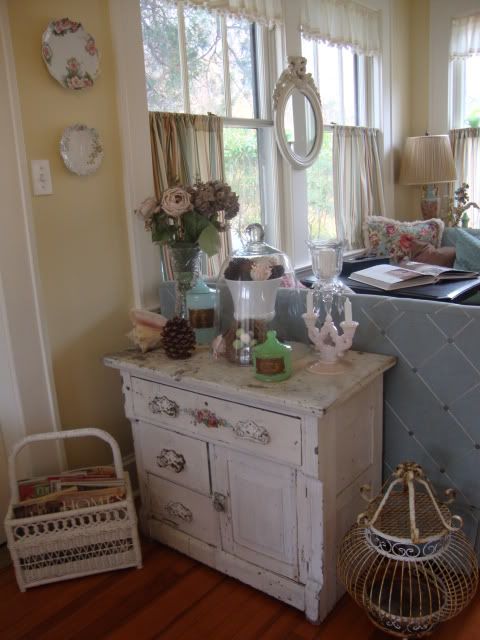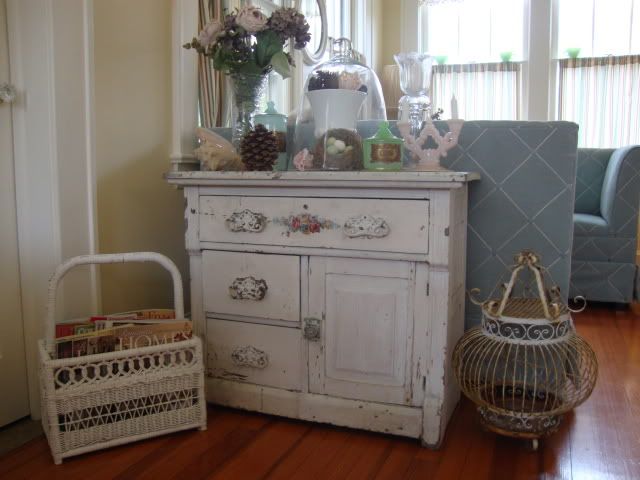 This old wash stand I purchased at a garage sale in my neighborhood.
OK, I have to say it
$25.00!
It's super distressed but has the GREATEST original hardware!
It was filthy dirty when I got it home so I scrubbed it down.
Beneath the grime and some white paint was that floral spray in the center of the top drawer.
You would think I had hit GOLD by my reaction when I saw that coming through!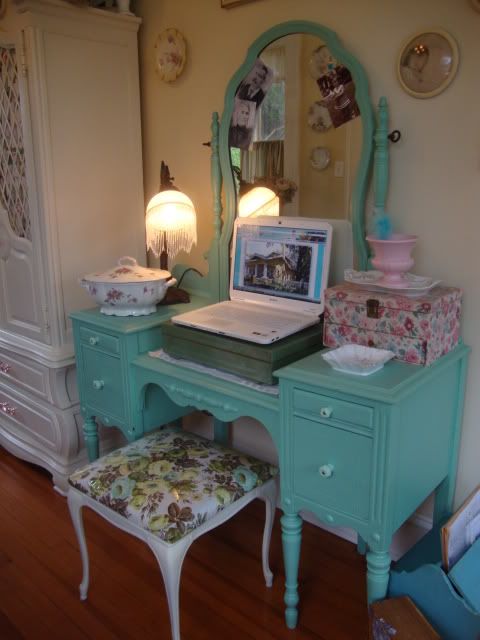 This is my desk/vanity. It's still an area that I am working on completing to my specifications.
I'm trying to find some more wall art or a plate to compliment what already exists.
Keeping it pretty yet functional has been a challenge for me.
On the computer screen is one of my favorite blogs,
If you haven't been there it's a must see!
It's both
beautiful
and
inspirational
!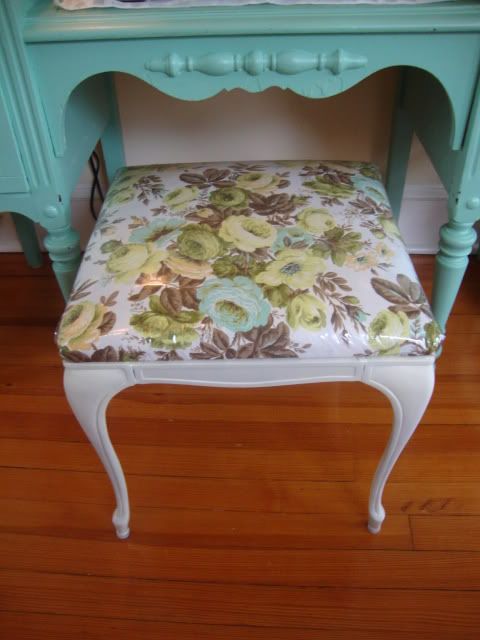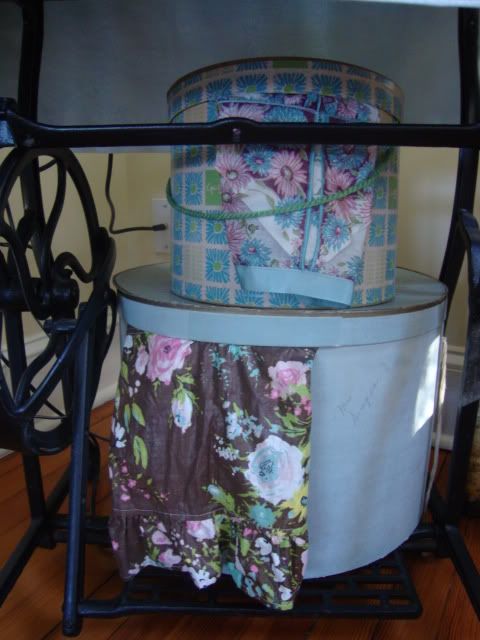 A couple of old hat boxes
and
vintage aprons.
I can't pass up a VINTAGE APRON when I'm out
ANTIQUING.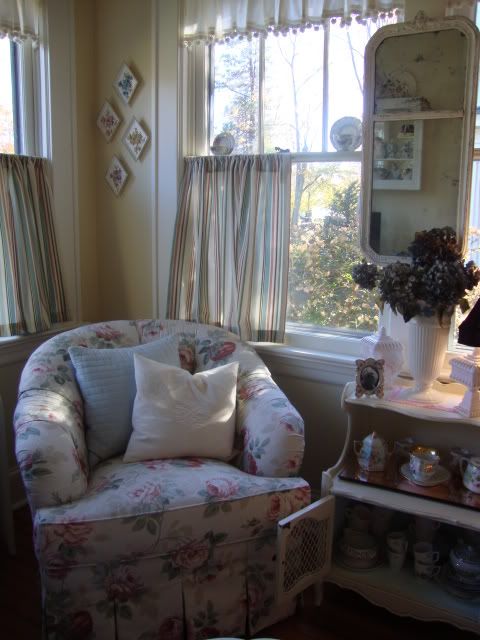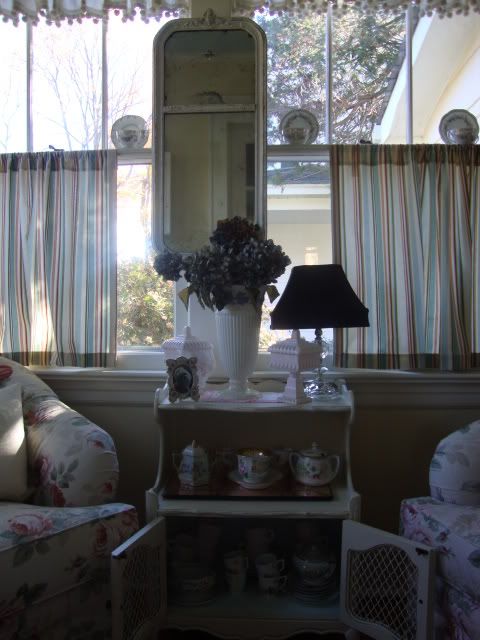 This side table was a dark brown wood when I picked it up at the
thrift store.
It holds some of my favorite pieces
A
pink
vanity mirror, my parents
crystal
lamp
and that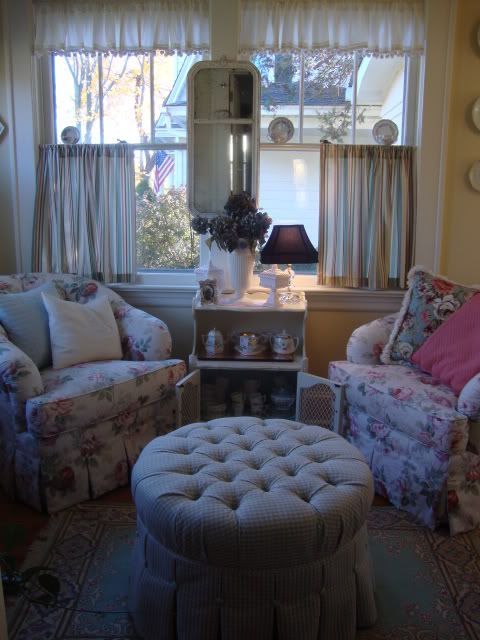 Now that you have toured my
SUN ROOM,
won't you sit down
put your feet up
and join me for some tea?