Sometimes my curiosity gets me into situations I simply can't imagine. Last weekend my sister in law and I went to a local open house for a
home that is for sale
. I have had my eye on this house for many years and wondered about it's history for quite some time. When I first noticed it some years ago there was a celebration of sorts going on. There were many people gathered on the oversized front porch posing for a photograph. I wondered to myself who they were and more importantly what exactly did the house look like inside? Last weekend, I learned that information but it didn't remotely squelch my curiousity. Quite contrary, I am even more curious.
As it turns out this home was once an annex for a historic hotel named The Delavan. This home and the one next door were both used to house guests when the hotel reached capacity.
The Delavan Hotel was designed by Isaac H. Green Jr. The Delavan Hotel, built in 1883 by Andrew D. Foster, was located on the west side of Foster Avenue, a short distance from the bay. Charles M. Rogers purchased the Delavan Hotel in 1919 and his family operated it for many years. The Delavan Hotel was destroyed by fire on New Year's Eve, 1932.
(Excerpt taken from Sayville Public Library)
The house that I visited has been in the Rogers family since 1926. It is understood that the last living relative Dr. Chas. Rogers passed away last December 2007. He left this home in near original condition. It is filled with wonderful antique pieces and amazing art work. The pictures truly do not convey the beauty or the potential this home offers. I am hopeful I will be able to attend the estate sale tentatively scheduled for September 2008.


This beautiful home is waiting for someone to come along and turn it back into the beauty that it once was. I had emailed the real estate agent to inform her of a wonderful website
historic properties
I knew of that might attract a restoration minded individual. (I HATE when people destroy these historic gems)
Low and behold she asked me to help her with the copy! I visited the house once again late yesterday. The neighbors asked if I was from the historical society! Another touring real estate agent asked me how much I charged for my service as she had a historic house which she wanted to advertise! I had to explain several times, I'm just a nosey neighbor who is interested in helping this house find a restoration minded owner. I do hope Charlie and Chuck (the prior owners) are looking down smiling at this nutty lady who is going to bat for their home.
Below is an abbreviated description of this home. Let me know if you are interested!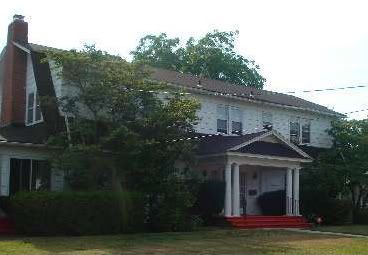 This historic 1926 Dutch Colonial was once an annex for the Delevan Hotel. It is located in the quaint town of Sayville, Long Island. A town rich in history, it was once a major vacation destination for the NYC elite. Sayville is historically well known for its boating, clamming and fishing. Its tree lined streets are dotted with architecturally charming residences. This lovely home has been occupied by the Rogers family since its inception.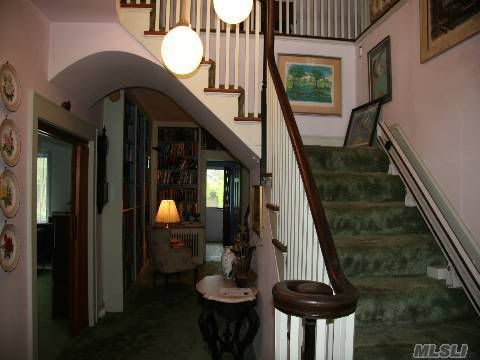 Architectural features include a spacious front porch which is flanked by large circular columns, original thick moldings throughout , built in shelving and high ceilings. The house boasts 14 rooms including, 5 bedrooms and 4 ½ bathrooms. All bedrooms have original wall sconces, wood doors and windows. The bathrooms have original bone white subway tile, octagon and dot tile flooring, porcelain fixtures and hardware. This center hall colonial features a sweeping staircase with a gorgeous spiral newel post. The second floor landing allows for a seating area featuring large windows, original sconces and coved walls.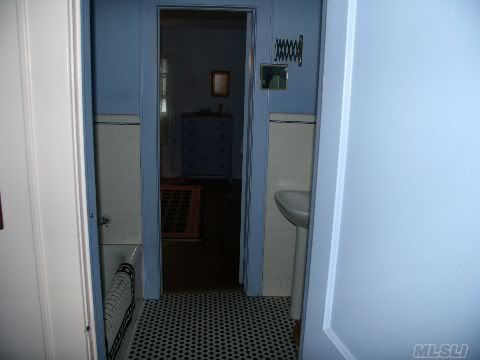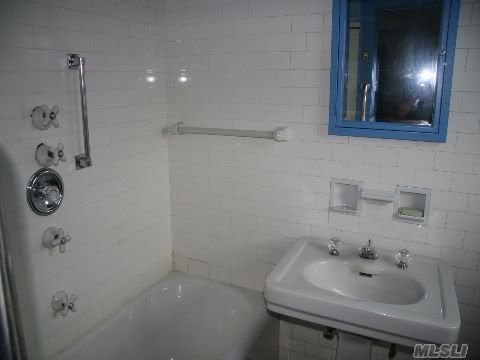 This spacious home includes a formal living room, formal dining room, library, solarium, kitchen, laundry room and a great room with a fireplace. There are additional spaces which can be configured to meet the needs of the homeowner. There is potential for a home office and staff/nanny quarters. In addition, a gunite pool rounds out the features on this .93 acre parcel.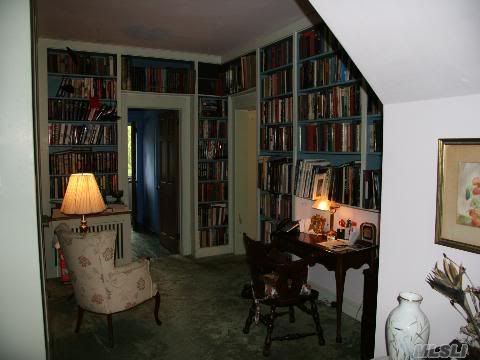 This home is located in walking distance to quaint downtown shops and restaurants, sandy beaches, a marina on the Great South Bay, tennis courts, children's playground and the Fire Island Ferry. This historic property is conveniently located 55 miles east of Manhattan and 40 miles west of Southampton.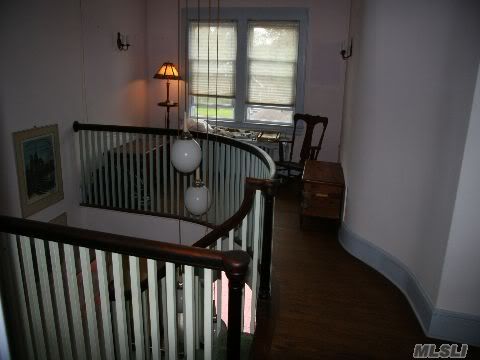 This property is offered in as is condition. This grand dame of a bygone era is awaiting an owner who will restore it to its original grandeur.