On September 3rd my blog featured some
Vintage Couture
I had recently acquired. If by chance you read it, you may recall the dress I referred to as the "showstopper."
If you didn't, that would be my purple satin wiggle dress that I won on Ebay.
After fairly extensive alterations I had the chance to wear it to my cousin's wedding. I truly loved it! Wearing it made me feel terrific. The fit may not have been as perfect as I would have liked but, it made me really happy. After struggling with my indecision, I decided to share the final product with you.
For the
LOVE
of vintage couture,
I face my AVERSION for being photographed
and
reluctantly submit the following: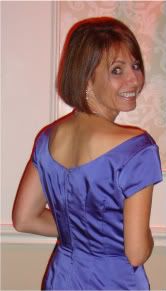 Whew, I did it!
I went outside my comfort zone!
Oprah would be so proud!